GBP/JPY trading pair consolidated on its intraday gains and accelerated to a new daily gain, around the 156.65-156.70 zone in the European session.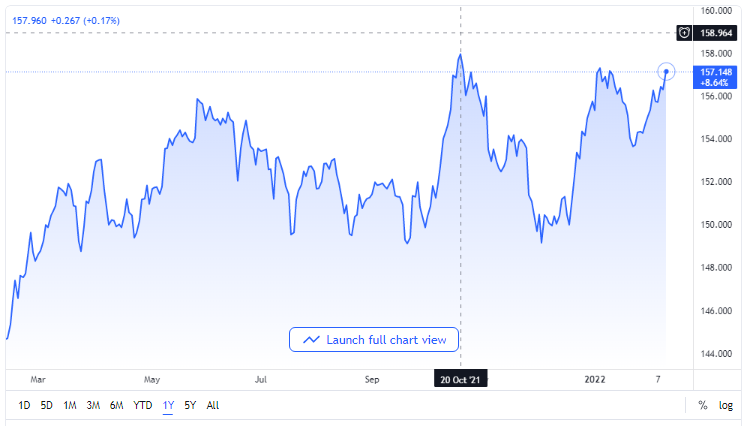 GBP/JPY price chart. Source TradingView
After the pullback experienced the day before from a more than three-week high, the pair just got to draw up some new buying on Thursday, and it was boosted by a number of factors coming together.
The BoE Hawkish Effect
Last week's outright hawkish position of the Bank of England keeps giving the British pound sterling needed support. On another level, the broad-based positive atmosphere in the equity market subverted the Japanese Yen and further boosted the pair.
It should be recalled that the Bank of England increased the economy's interest rate benchmark by 25 basis points to reach 0.5%. It has become the first close-quarter series of increases since 2004, and it was supported by an aggressive hawkish voting pattern.
The Bank of England had revealed last week that four out of nine voting members of the MPC had voted in support of having the interest rates increased by 50 basis points. The entire BoE event was taken as a major factor that served as a catalyst for the pound sterling and spread its support onto the GBP/JPY pair.
Furthermore, escalating tensions in Northern Ireland over its protocol in the Brexit deal might be one to hold off some bullish traders from staking up and keep close their hard-earned gains from previous trades. Reluctance might also begin to build on the side of investors, and they would rather want to be patient on the side ahead of the U.K macro report expected to be released on Friday.
What is expected on Friday also includes the preliminary quarter 4 GDP print. The GDP print especially demands caution on the side of bullish traders and their positioning for any more gains.
Comparison with the U.S Dollar
On Wednesday, the USD/JPY pair maintained a defensive position. Analysts, however, said that a break over 115.69 might be able to confirm the finalization of a continuous bullish sequence for a return of the central uptrend at 116.35/70 levels.
The main near-term resistance remains conspicuous at the most recent high at 115.69, and one could see a continuous bullish pattern to give a change to the higher trend again, so the high and the long-term downward trend all the way from April 1990 can be tested again. They stood at 116.35/70 at the time. 
While there should be enough latitude for possible new rejections, the market keeps looking forward to a good clean break, with the possibility of resistance expected next at 118.61/66.