Since the initial market scare at the beginning of the military offensives between Russia and Ukraine, the cryptocurrency market has recovered in leaps and bound with each passing day as Bitcoin lead the pack.
Bitcoin has continued to be the focal point in the positive market performances that the crypto industry has been experiencing for some time now, with other cryptocurrencies also recording huge gains.
The world's leading digital currency is seen as the possible solution available to Russia to evade heavy financial sanctions placed on its international communities. And it is not surprising to see that Bitcoin has responded well to the call to be the major currency for Russia to use.
The first week of March has seen the cryptocurrency market have a smooth ride in trades volumes and price stability with an increase of about 8% in the trading hours of New York and a more than 20% increase in only two sessions of trading.
Several other digital tokens have enjoyed a consistent rise in price over the past couple of days. For example, Ether has crossed over $3,000, and LUNA increased by 76% over the last couple of days, almost reaching its all-time high last attained in December, according to CoinMarketCap.
Analysts have given some reasons why the meteoric rise in the value of digital currencies is increasing. Some point to the fact that changes in the overall market structures and the government's lack of presence make cryptocurrencies attractive to others.
Some schools of thought provide further insights by stating that as the government is not in control of the entire industry and tokens supply and circulation are not in the hands of central banks, all make the ownership of crypto attractive to a vast majority of people, the world over. Not even conflicts like the one in Eastern Europe appear to impact the use of cryptocurrencies.
As Russia – Ukraine War Rages, Bitcoin Surges Continues
Investors looking to take their chances on the ongoing conflict in Eastern Europe are the major drivers of the prices of cryptocurrencies. But speculators are also taking advantage of the situation to push the prices higher.
The decision by investors to take a plunge at Bitcoin will make their initial investments bring a high return sooner than will be gotten at the traditional stocks or bonds markets where investors wait for someone to make a move before doing so.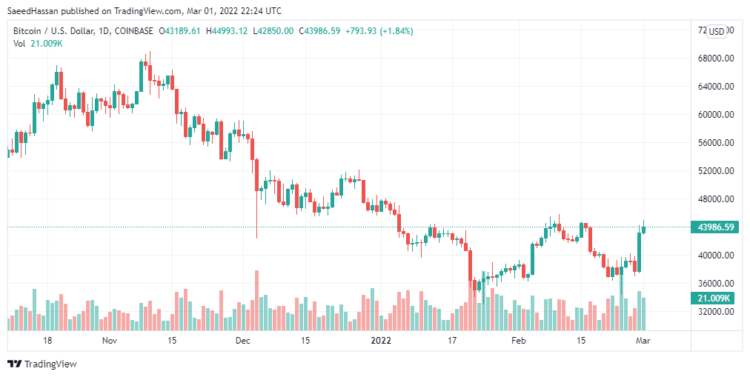 BTC/USD value chart today| Source: TradingView
Bitcoin As A Store Of Value
There has been a long belief that Bitcoin can be a dependable tool for storing assets in conflicts and unrest like the present one in Eastern Europe. Many analysts also subscribed to the long-held belief.
However, the current performance of Bitcoin as a store of value seems to have rubbished this belief as most people with huge funds move their assets to gold. But there is still some time to see if Bitcoin can reverse the trend.