Indeed, increased market players have heightened industry competitiveness globally. The financial space remains vibrant. And that makes the always-changing roles of forex brokers puzzling and intricate. That's not to forget that the past few years have witnessed enormous changes within the industry. Tightened financial policies by global central banks and high inflation have triggered increased demand for brokers.
Also, the previous two years have seen an uptick in retail trading as the market attracted massive new investors, whereas experienced market participants increased their trading bulks. Research confirmed that around 66% of the new traders were below 45 years. Meanwhile, the reasons to join the market vary from saving for retirement to capitalizing on market volatility with small investments.
Consequently, brokers need to offer the increased traders the most advanced trading technologies and diverse tradeable assets. Furthermore, they need to satisfy the high anticipations of Gen Z market players.
In this context, the trading service provider selection remains crucial for any retail broker to succeed. AIRSOFT technology presents a one-stop solution to solve the most demanding onboarding problems for brokers. Let us check why this technology is essential for modern trading needs.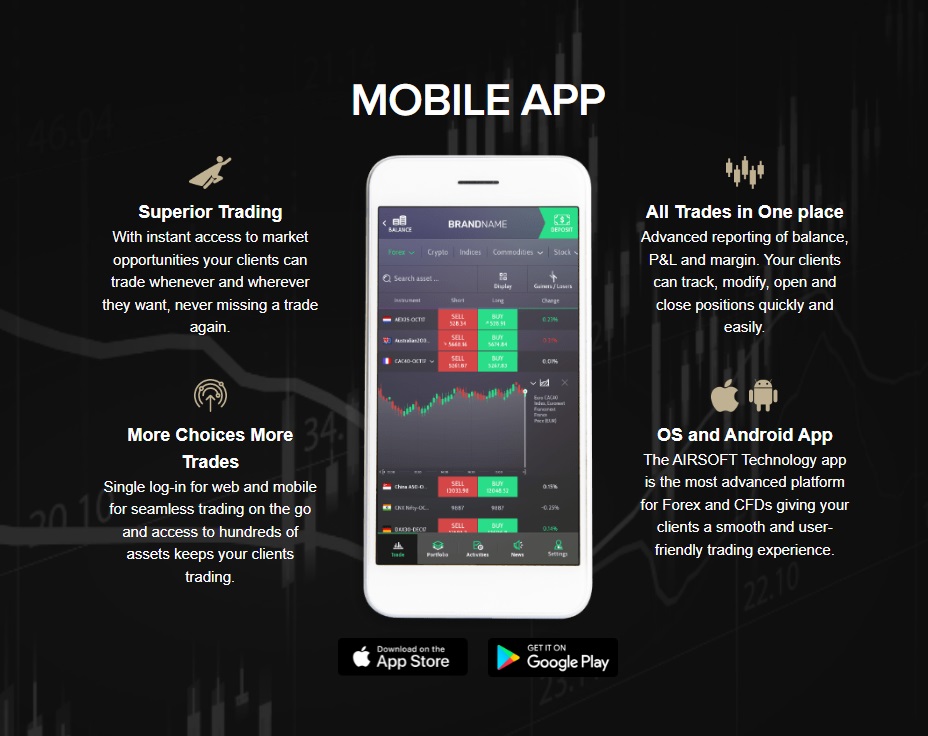 Far-reaching Customization
AIRSOFT provides inclusive software solutions & all through consulting services to the financial industry. The company's team has interacted with the space for over a decade, giving them top-notch marketplace insights. Moreover, it helps them to develop the most compliant and customized offerings for established and start-up brokers.
Nevertheless, customization isn't limited to compliance. First and foremost, stiff compliance and regulation protocols by worldwide regulators mean varying restrictions to leverage trading, some prohibited assets, and KYC requirements, according to the involved nation. It remains critical for brokers to keep documents of agreement with regulators, as that needs robust back-office tools.
Meanwhile, the CRM platform remains crucial for all brokers' onboarding efforts. As brokerages expand into various business models and jurisdictions, the changes should reflect on Customer Relationship Management. Meanwhile, AIRSOFT technology alleviates customization challenges.
Advanced Technology
A survey revealed that solutions that smoothen onboarding top the trends within the financial markets. True enough, ease of use and accessibility are among the leading benefits of automated sites. These platforms allow brokers to alleviate energy-intensive and time-consuming tasks like lead management and KYC while ensuring vast visibility.
That enables the brokerage to concentrate on improving customer trading experience, new technologies, and every essential for customer retention. AIRSOFT ensures increased efficiency for brokers with incorporated solutions, including project manager, dedicated support, and banking solutions.
Stable Payment Options for Customers
True enough, the pandemic saw most things going digital, and the shift brought the need for brokerage platform to revise their services. Obstacles in deposits & withdrawals might translate to inefficient customer onboarding, leading to the loss of prospective clients. Moreover, it can consume time and welcome heightened operational costs.
Bank accounts are arduous to open, and funds accounts need multiple certifications, compliance, and paperwork (according to the jurisdiction). That makes transacting a challenging thing from a legal view. Payment Service Providers can be unlicensed, and their platforms might suffer downtimes without notification, translating to a loss of cash. For that reason, brokers should offer dependable payment options to ensure client retention, credibility, and compliance, guaranteeing secure and smooth transactions.
AIRSOFT provides incorporated payment service provider solutions via its collaborations with renowned cashiers, exchanges, and PSPs. That allows traders to deposit & withdraw seamlessly (regardless of location). Moreover, AIRSOFT can integrate any top PSP, depending on the broker's demand. That ensures operation effectiveness for brokers and access to tools that guarantee improved trading experiences.
Final Thought
Besides top-notch onboarding services, AIRSOFT helps brokers in their growth objectives via emotive business consulting solutions, referrals to experts, and website developments. True enough, AIRSOFT is an all-in-one platform for all brokerage needs. You can reach out to AIRSOFT through the contacts on the official website for more details.
To learn more visit https://www.airsoftltd.com/