November 4, 2016
Trading "High / Low" Binary Options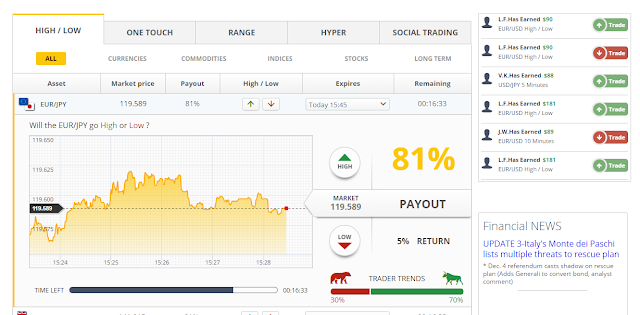 High / Low binary trading is perhaps the easiest to follow and a great place to start. The trader simply chooses between calling or putting. If the trader believes the price will go up they purchase a call, and if they believe the price will go down they purchase a put.
The trader must determine what asset to trade, the strike price that will serve as the trade's benchmark, and then determine whether you want to purchase a call or a put. Before pulling the trigger, decide on your expiration time.
While it may sound easy, ending the trade with profit isn't as straightforward as it sounds. Your expiry time could be 60 seconds or 7 days, and the difficulty in predicting your asset's behaviour grows the longer you extend the expiry date. It isn't a case of plonking your money on one and hoping the best, successful traders use analysis to chart assets.
If you choose to trade currency and the current market rate for EUR/USD is 1.30208 the aim of your trade would be to predict whether the price goes up or down upon the trade's expiration.
Before you make that decision, you'll need to complete some analysis. Then choose the direction of your price and once you select your call or put you can enter the amount of your stake. If you place $100 and the pay-out is 80% then you'll win $180, provided you correctly predict the market change. If the trader losers the trade, then he loses the $100.
How can you trade the Highs and Lows of binary trading options successfully? Analysis is the most sure fire way. Some traders suggest using news releases, however, this is unreliable, regardless of the length of your deadline.
Using technical analysis encourages traders to use strategies that chart patterns. If you want to trade high you'd look for bullish patterns such as ascending triangles, reversal candlesticks, and double tops. The opposite is true when trading low.
Get regular charts from the major trading platforms and use their charts for analysis. The more research you do the more accurate your trades are likely to be. There is a greater temptation to gamble when it comes to trading highs or lows. There is no room for operation on hunches here, in order to be successful with any type of binary options trading you should utilize as much statistical analysis as is available to you. Never allow your money to run on a hunch when you can use strategies that will provide you with a clear indication of what direction an asset is heading. Use the analysis that is available to you to craft the strategy that will lead you to success.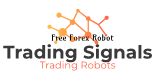 Return to Homepage
|
Sitemap
|
Sign Up Here